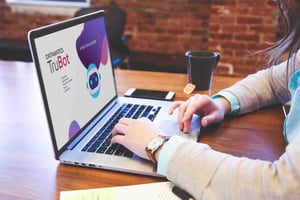 TruBot RPA Software
Intelligent technology to power your business
Enterprise-grade, Multi-skilled bot programmed to enhance your enterprise's productivity

Explore 30+ Use Cases of Intelligent Automation Powered by Generative AI
The use cases harness the potential of Intelligent Document Processing and
Robotic Process Automation, integrating them with the cutting-edge features of generative AI.

ENHANCE YOUR ENTERPRISE'S PRODUCTIVITY WITH RPA
Take the first steps toward better profitability, higher productivity and a happier workforce with TruBot.
Our TruBot RPA (robotic processing automation) solution automates workflows with high accuracy and minimal human intervention, freeing up resources from repetitive tasks.
Our user-friendly interface gives businesses complete control over their RPA program, allowing for quick deployment and actionable insights.
Key Differentiators
MULTI-SKILLED BOT
An enterprise grade, multi-skilled bot which automates a range of simple as well as complex processes.
EASE OF USE
With Universal recorder and visual workflow, business users can record the activities or drag and drop ready-to-use components to form a fully functional bot in minutes.
LOW CODE DESIGN AND DEVELOPMENT
Library of over 500 pre-built components enables faster development of automation flows
FULL CONTROL OF RPA PROGRAM
Through an intuitive dashboard, fully manage and monitor entire bot workforce and get complete insights on bot ecosystem health, all in one place
ENTERPRISE GRADE SECURITY
Features like role-based access control and credential vault makes TruBot very secure
REAL-TIME ANALYTICS
Actionable intelligence for business users, visibility into bot operations and KPIs
UI AUTOMATION WITH ENTERPRISE APPLICATIONS
Be it automation involving a legacy application or human-bot collaboration, TruBot seamlessly handles complex tasks
ZERO BOT FOOTPRINT
Leaves zero bot footprint on workstations, which ensures workstations are bot-ready quickly
Smart RPA bots with Cognitive Capabilities
Smarter Decision Making
TruBot gets reasoning capabilities with the integration of cognitive capabilities/APIs, which helps in smarter decision-making.
Handles Complex Transactions
Handle complex transactions which otherwise require human intervention, such as enhancing customer service, fraud prevention and managing audit and compliance
Cognitive Powers
Using TruAI and other AI/ML models/APIs, read and interpret unstructured text from various sources, such as documents, emails, social media, and news feeds
Customer's choice for Robotic Process Automation Tools
TruBot enjoys high customer satisfaction across industries
4.4/5
4.7/5
TruBot - Free Trial
TruBot delivers better productivity and reduced costs. Sign up for a free trial of TruBot's range of features that can help your business.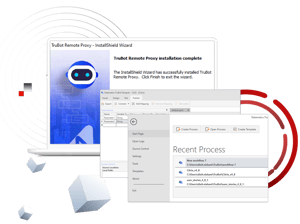 Robotic Process Automation (RPA)
Frequently Asked Questions
We want to simplify your life. In the following you see answers to some questions that might arise.
What is Robotic Process Automation (RPA) Software?
Robotic Process Automation Solutions or RPA bots emulate human actions done during repetitive, rule-based processes. The RPA bots are pre-programmed by a business user to execute those actions by using a universal recorder feature, which can record a process across multiple touchpoints and programs. These include MS Office, ERP systems, Citrix environment, web environment, Cloud applications, bespoke applications, PDFs, and many more.
RPA software automates processes through surface integration without any API involvement. It allows implementing digital transformation even in a legacy environment.
What are the benefits of RPA tools?
RPA tools allow businesses to scale up operations manifold using the existing number of full-time equivalent or FTE resources. This can improve efficiency and productivity by a factor of 10. RPA business transformation allows quick return on investment, improves accuracy, revenue earnings, and compliance.
Where are Robotic Process Automation Tools used?
Robotic Process Automation tools are used in all business verticals to automate repetitive rule-based tasks. These include banking and financial services, insurance, health care, travel and hospitality, market research, public sector units, manufacturing and logistics, and education, among several others.
What are attended and unattended RPA bots?
Attended bots depend on activation triggers that are set off by a Human-in-the-Loop or in an intermediate step in a process. Unattended bots execute as per pre-defined logic and are an integral part of a process flow.
What is TruBot RPA Solution?
TruBot RPA Solution is Datamatics' robotic process automation software product. TruBot RPA solution can be used for both attended and unattended automation and supports both on-premises and cloud deployments. The solutions automates repetitive, rule based tasks and swivel chair tasks (tasks that require users to switch between different applications or interfaces).
What are the various architectural components of the TruBot RPA tool?
Core architectural components of the TruBot RPA tool include TruBot Designer, TruBot Cockpit, TruBot Analytics, and software robots. These components enable the development of enterprise-grade digital workforce, or software robots.

TruBot Designer is a low code visual automation flow designer which enables business users to create automation by using simple drag-and-drop components, or by using our universal recorder.
TruBot Cockpit is used for the management and monitoring of bots for processes created by using TruBot Designer. Cockpit Personal, a version of Cockpit, is aimed at citizen developers and can be deployed on a user's desktop.
TruBot Analytics provides insights into the operations of your business's RPA solutions platform and software robots. The tool analyzes metrics such as operational KPIs, productivity improvement and cost savings, among others.
Do TruBot RPA automation experts provide guidance about enterprise-grade RPA solutions?
The TruBot RPA automation experts at Datamatics have identified a list of use cases and standard processes that can be easily automated in most verticals at the enterprise level.
Can TruBot RPA tool be deployed over the Cloud?
Yes, the TruBot RPA tool supports deployment in a cloud environment. We also support on-premises deployment.
How does the TruBot RPA tool enable low-code development?
The universal recorder feature allows the TruBot RPA tool to record a process as it is executed manually while generating a low code syntax in the process, so that it can be replicated. The 500+ in-built library components with the drag-and-drop features make the generated syntax stronger. Multiple syntaxes can be combined to form a longer process. Visual Studio Designer engineers can extend the low-code syntax to automate more complex processes.
How do you calculate RPA Solutions RoI?
Robotic Process Automation solutions RoI is calculated by taking into account the number of processes that are automated, the number of resources that are required to automate those processes, the percentage of the daily time the resource would utilize to complete the task, and the annual costs of deploying those resources. The RPA solution RoI is also influenced to some extent by the geography in which it is deployed due to the inherent variances in the cost of living.
What is the role of a design tool in Robotic Process Automation (RPA) solution?
A design tool or RPA Designer is a visual designer-based application within the RPA solution that allows business users to create bots by recording a process as it is executed with a universal recorder or by using reusable components from the application library. The universal recorder captures steps across desktop, web, mainframes, Cloud, and Citrix as the process unfolds.
Datamatics TruBot RPA has an associated low code-no code design platform, TruBot Designer, which allows business users to create bots. If required, these bots can be refined by developers to integrate multiple bot codes and build new bots.

Start Automating.
Learn how TruBot RPA can be applied in your business to lower costs and boost efficiency across processes.