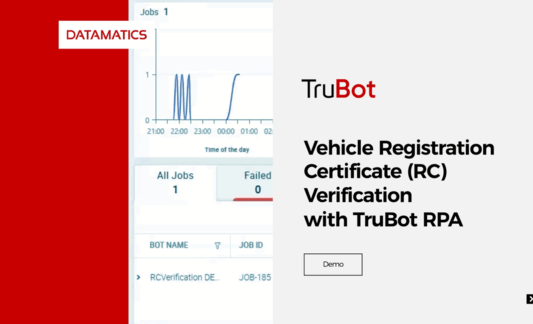 Overview
Datamatics TruBot is an RPA product acclaimed across many analyst circles.
This demo video demonstrates how TruBot RPA enabled mobile automation to auto-verify and auto-validate vehicle registration certificate by fetching inputs from multiple third-party applications, in this case, Government mobile applications, mParivahan and Vahan Master (India specific).
The demo scenario involves a large Non-Banking Financial Company (NBFC) that provides loans for automobiles. Their major pain point was authenticating vehicle related data, such as chassis number, engine number, and other relevant details before disbursing loans to their customers or automobile users.
TruBot RPA enables NBFCs to expedite verification and validation while processing huge workloads of vehicle loan applications and disbursing loan monies. The speed and accuracy resulting from the use of TruBot RPA enables NBFCs to process almost a million loan applications within one month by using the same number of resources thus offering a huge return on investment.
Read case study on how TruBot RPA automated vehicle registration certificate verification for an Indian NBFC.
Talk To An Automation Expert
Talk to a automation expert from Datamatics about your specific challenges or queries and we will walk you through solutions that can help