Everest Group recognizes Datamatics as a Star Performer in its latest report on Robotic Process Automation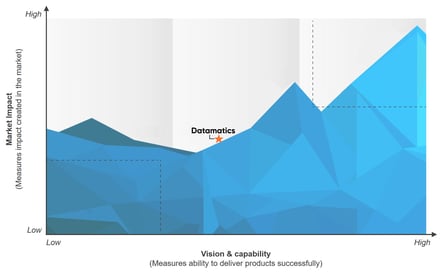 With the changing business scenarios, and with organizations across the world embracing Digital Transformation, Robotic Process Automation has emerged as a key enabler in the enterprise automation segment. While the overall automation ecosystem continues to evolve with the advancement of new technologies like Intelligent Document Processing (IDP) and Artificial Intelligence (AI), RPA continues to remain the foundational element of this evolving ecosystem.
In its latest report titled, "Robotic Process Automation (RPA) - Technology Provider Landscape with PEAK Matrix Assessment 2021" Everest group analyzes the global RPA market landscape and 23 leading RPA vendors across the world.
Datamatics is among the vendors that demonstrated the strongest Year-on-Year (YoY) movement on both market impact and vision & capability dimensions
Based on the Year-on-Year movement in the PEAK Matrix, Datamatics emerged as a Star Performer and a Major Contender for Robotic Process Automation (RPA) - Technology Provider Landscape with PEAK Matrix Assessment 2021